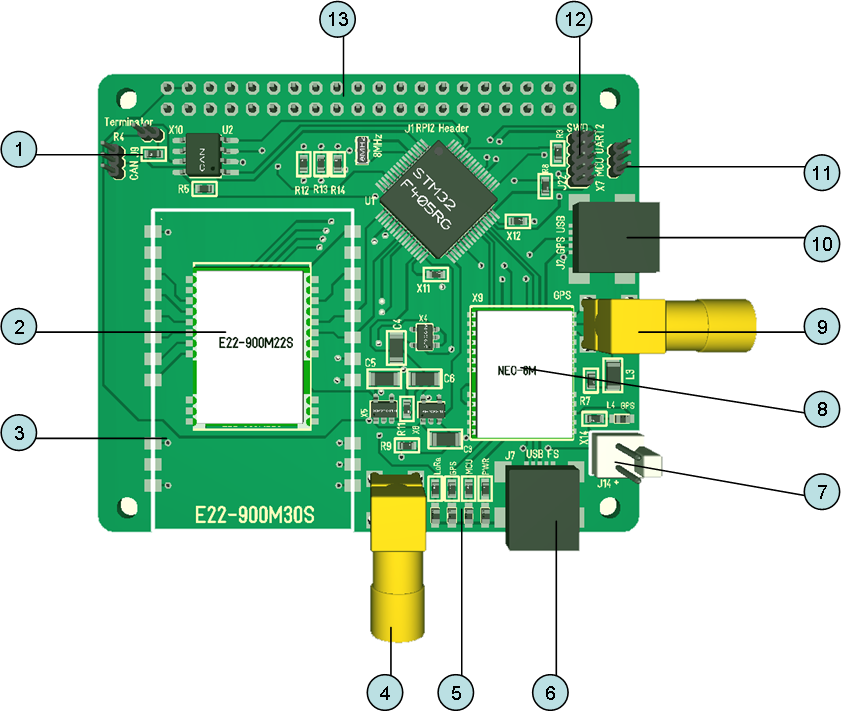 Rev 1.3 of my LoRa/GPS Hat. It will be a Rev 1.4 before I order this PCB because I want some changes. I want to remove (11) the UART port and (7) the separate Power port. The 5V power port will be removed on all Hat's as I want to force 5V through USB or a separate PSU board. Having a separate MCU Power connector on each board is just occupying space and I need to be more consistent to separate MCU power and Motor power on those boards that need both.
CAN Tranceiver
LoRa 125mW Tranceiver. Covers between 3-6km of range.
LoRa 1W Tranceiver covers up to 12Km of range.
LoRa Antenna port
Leds
Standard USB
MCU Power
GPS Module
GPS Antenna port
GPS USB Connector
UART
SWD
RPI Connector
I have the modules, I also have the Rev 1.0 boards, but I did a schematic error on 1.0 and I have so much to do so I will make Rev 1.4 and order new boards before I assemble this. A last change I am considering is to remove the E22-900M30S which is the 1W version. But, I will leave it on for now since I have a few modules anyway.
This board is quite flexible as I can switch on LoRa and GPS separately. The main reason I am holding back on assembling these units is coding – it requires a bit of coding for testing and the framework is in the pipeline, but I focus on XPortHub to build basic libraries/infrastructure.