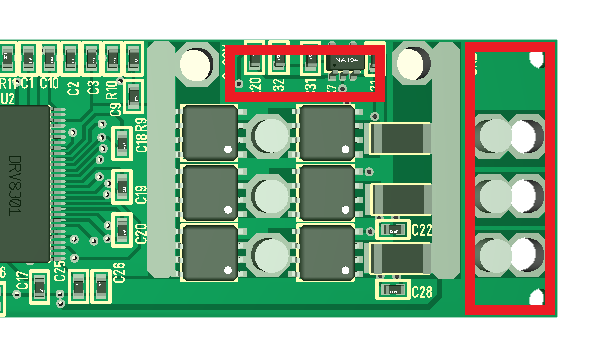 I want to attempt a few changes on this 3-phase controller.
Remove the 3rd current sensor marked in red at top.

Remove the output holes at right and take the output directly from between the MOSFET's.

Add at least 1 temperature sensor. I can use more space between MOSFET channels and maybe squeeze in the temperature sensors here. I would prefer two, but one is ok.

Modify power input so one wire comes at top and one at bottom. This enables me to easier mount the capacitor directly on the wires.

Strengthen power paths to support 50A++. The MOSFET is capable of 160A and 400A phase currents, so it is all about heat dissipation and current paths.
I have no experience with these MOSFET's, I still lack experience with the temp sensors, current sensors and 2-3mm wires etc – so it will take a while experimenting on the 4 channel before I am ready to move on this smaller and more specialized design.