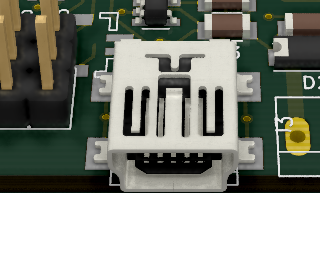 I must admit that the realism in KiCAD's 3D model is growing on me, it is great for precentations in here. Adding a 3D package was about selecting an associated 3D model file, so from now on I saved a copy of this footprint with the associated model in my own extension library.


Adding drill holes was easy – it actually is a component selection in the library, so all I needed to do was to select the correct one and set dimesions/position. On these drawings I had to switch off realistic mode on the backside to actually see drill hole areas properly.
One advice is that KiCAD actually crash from time to time. It crashed as I tried to remove the old via's, but I opened the file in a text editor and removed the objects manually.
Target 3001 had a script option to make your own 3D packages. Basically you have the same in KiCAD since files look like scripts. But, the better way is to use some 3D design tool that can save in the correct format.
As for the 32xServo/IO – I could only find the SMD version of the 1.27 pich JST connectors (CAN port) and they are a bit wider. I am not sure about this choise, but I will try them out. I need to find or make angled pin-headers 3 row deep and 2 more packages. I would also like to tilt a few things 45 degrees and add text, but other than that I am done – I have basically made my first prosjekt in KiCAD.
I have to credit the community for all the available youtube videos on various subjects – without those this would have been a much harder learning curve. My next task is to start making the boards on 4 layers. We are actually setting up our own assembly factory a few miles away from my lab. That said, I am not sure how to deal with production yet – it is down to logistics and even if I can assemble low cost I still have to ship units out. The later cost to much from Norway, but that is a different story.