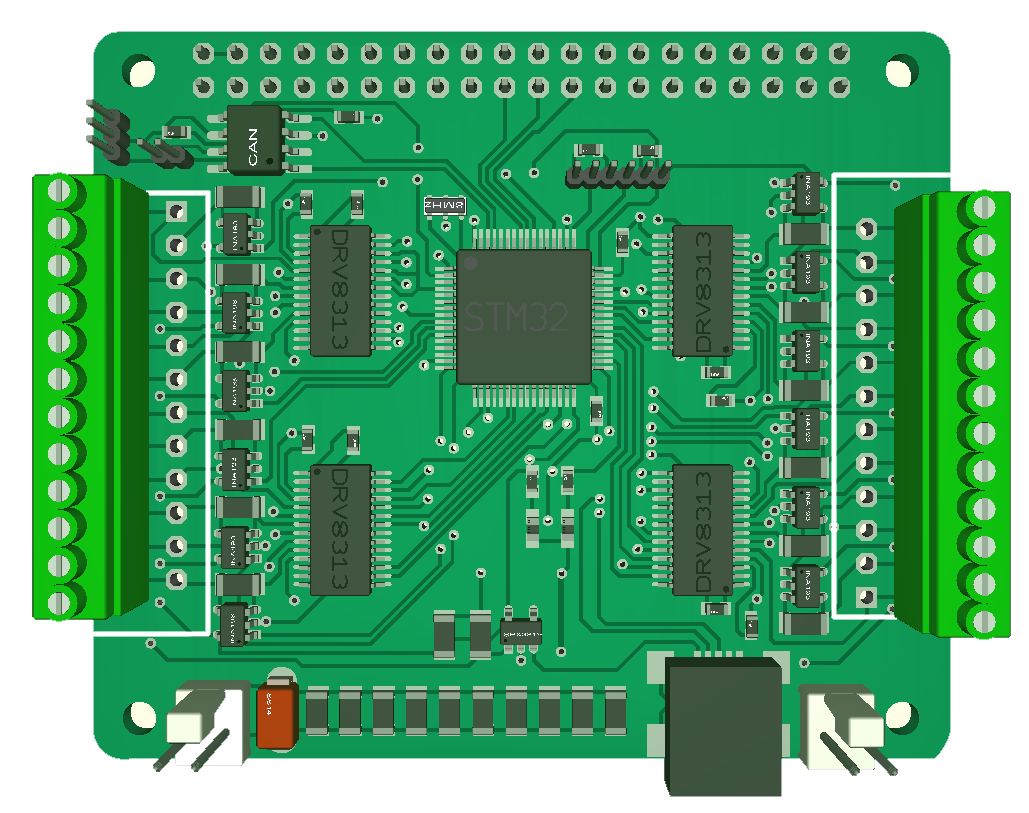 This Hat was actually a challenge to route, but I managed it at the 4th attempt. I am quite happy with the result as well.
Raspberry PI Hat Format

STM32F405RG MCU, 32bit ARM M4, 168Mhz, 1Mb Flash, 196Kb SRAM.

42Mbps backbone network. ca 30Mbps With Raspberry PI.

CAN Network

USB

Separate PSU for PWM

12 x separate PWM signals, ca 1A each.

3 x Stepper Motors 2,5A

4 x 3-Phase Motors 2.5A

6 x DC Motors.

24V design capable to support 48V with some cap/diode changes.

24 connector terminal block with 12 signals and 12 ground connections.

12 separate current sensors.

12 separate Half H-Bridges allowing a very flexible usage.

Based on DRV8313 3 x Half H-Bridge Driver.
I have many designs, but the flexibility of this one is in a category of itself.
Gimball controller

CNC/3D Printer controller

Running

DC

Motors/PWM signal up to 10A by combining ports.
I must also admit that it feels good to be finish with this after so many failures on routing this very design. I have done many weighted compromises here, so I will need the MCU on this one, but it will be fun!
My motivation to do this one is that it is a key component in a very special control system where it is possible to actually earn some money. But, well – I can't tell every secret in here 🙂