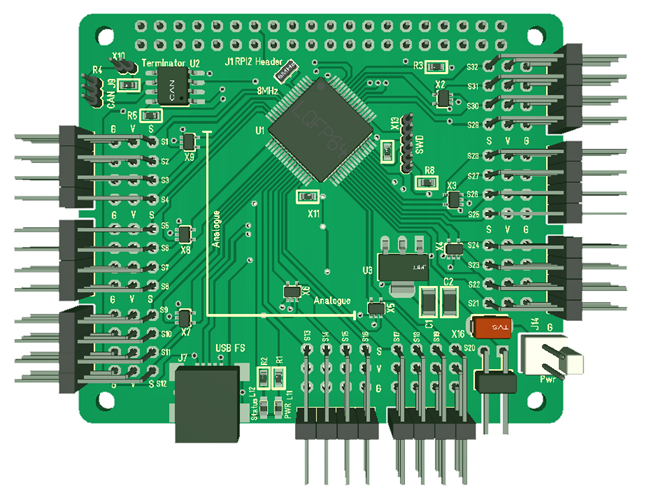 This is rev 1.3 of 32xIO/Servo Hat. It's been a few revisions that I never bothered to build because the original is working well. But, I need some changes on this:
SWD need to change to new format.

Connection to SPI1 need resistors.

2nd Power connector needs to be added.

Connection between motor and 5V USB can be moved into board.

Leds can be moved into board.

Adding protection diodes on wrong polarity.
The main change I want is however new Servo/IO connectors. The right-angle headers used here are great, but they have no mechanical fittings and are candidates for falling off during vibration. How I can achieve this is a puzle. I might have to use JST Micro 3-pin in which case I can achieve 16 IO/Servo ports maximum. I am however thinking that is OK because firstly I can stack board, secondly 16 x IO is a lot + it is much easier to ensure 16 x PWM timers and use hardware for higher pulse accuracy on Servoes.
That said I think the 16x IO/Servo Hat can start at revision 1.0 and we upgrade this to rev 1.4, meaning I maintain both for now. The 32xIO/Servo Hat is after all a cool hobbyist board + it is the closest I have to a generic GPIO Board.