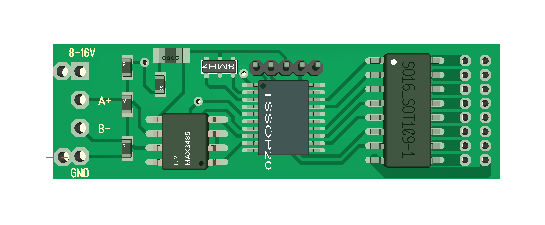 I am quite found of these small boards so I reuse the MCU and RS485 interface on various designs. This one uses a ULN2003 to provide 7 PWM ports with up to 16V and 0,5A each. I use a 8 pin 1.27pitch connector. the 8th pin is V+, while the second row is all GND. This allows the board to be used for driving steppers, LED's or small solenoid style actuators.
ULN2003 can actually handle 50V, but the regulator on the back is LM1117 that only handle 16V. I am actually only planning a 12V system so it will do.
 These boards all have a 120 Ohm terminating resistor mounted. In real life this resistor will not be mounted as I expect to deploy a lot of these boards in the same RS-X network. This one is tagged for Christmas lights, but with two months to go I will need a bit of luck to get the PCB's in time.